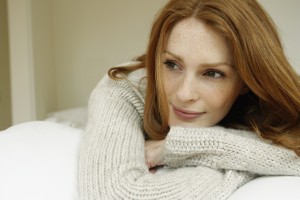 Did you know that stress affects men and women differently? Women are actually more deeply affected by the emotional and physical effects of stress than men are. When the body reacts to stress it releases hormones that cause slowed digestion, blood pressure to rise and the heart starts pumping more blood to the muscles, which in turn increases energy and alertness. This is a very important function for people when dealing with situations that require you to act fast.
The problem with calling upon these hormones to often is, that the hormones will eventually wear down the body if stressors are affecting you frequently. The following list includes both physiological and emotional effects stress has on women's health:
Irregular Periods– Stress can essentially mess with your body's hormone balance, which in turn can lead to missed, late or irregular periods.
Acne Breakouts– Stress causes raised levels of the hormone cortisol in the body that can cause excess oil production that will lead to breakouts. In some people it can also cause itchy rashes or hives.
Depression- Your emotional health suffers when stress have in your life. Experts say that women are more likely to experience depression than men.
Heart Disease- Stress can cause a negative reaction affecting the whole cardio vascular system. This can lead to high blood pressure, stroke and heart attack.
Lowered Immune System- You body's immune system can be wreaked by stress which lessens your ability to fight off common colds or viruses.
Weight Gain or Loss– Stress can make you reach for comfort foods, or make you so upset you can't eat. The more common stress related issues are cramps, bloating, heartburn, and sometimes even irritable bowel syndrome.
Problems Concentrating– When you are stressing out it makes it very difficult to focus and taking care of responsibilities at home or work.
Don't forget it's very important to your health that you unwind every once in a while, and not let stress consume you and affect your health. For more information regarding women's health, contact Dr. Gordon C. Gunn, MD in Fullerton, CA at 714-912-2211 or visit www.gordongunnmd.com for more information.
Dr. Gordon C. Gunn also proudly serves Buena Park, La Mirada, Yorba Linda, Diamond Bar, Walnut and all surrounding areas.