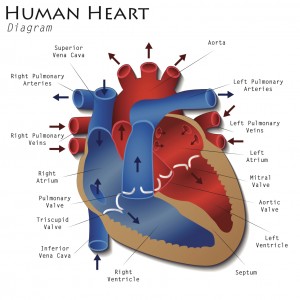 Cardiovascular disease, which includes coronary artery heart disease, stroke and peripheral arterial disease (PAD), is the leading cause of death of both American women and men. Statistics show that women and men have different outcomes from this disease. Women are more likely than men to die from a heart attack or stroke than men. However, the misconception still exists that cardiovascular disease is not a real problem for women.
CAD is a condition in which one more of the heart's arteries is narrowed or blocked by cholesterol plaque called "atherosclerosis" in which decreases the blood flow to the heart muscle. Chest discomfort or pain called angina can occur when the heart muscle does not receive adequate blood and oxygen, such as during exertion, strong emotions or extreme temperatures. The discomfort typically lasts less than ten minutes.
Women are more likely than men to have a hidden or sub-clinical type of CAD, which may cause only chest discomfort (rather than pain), minor EKG abnormalities or minor abnormal stress tests. This hidden type of heart disease does not involve the larger arteries supplying the heart, but it is due to disease of the small branches of the coronary arteries called micro vessels. Frequently, normal arteries are found on angiograms of the heart in women.
Other causes of chest discomfort that are not related to the heart include acid reflux, inflammation of the chest wall or lung inflammation. If you have episodes of chest discomfort, you should see your physician for an evaluation.
If you would like more information on stroke symptoms, contact Dr. Gordon C. Gunn MD in Fullerton, CA at 714-912-2211 to schedule an appointment today. Or visit www.gordongunnmd.com for additional information regarding women's health. 
Dr. Gordon Gunn proudly serves Buena Park, La Mirada, Yorba Linda, Diamond Bar, Walnut and all surrounding areas.