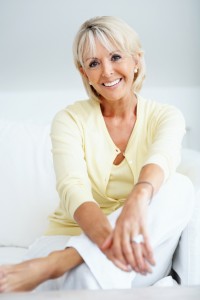 The history of hormone replacement in women has seen many swings in popularity over the past few decades. In 1991, the National Institutes of Health (N.I.H.) launched the Women's Health Initiative (WHI), designed to test the effects of hormone therapy on heart disease, bone fractures, breast cancer and colon cancer. One group of women who had undergone a hysterectomy received oral estrogen (Premarin) alone [estrogen replacement therapy or ERT]. A second group received a combination of Premarin and progesterone (PremPro) [combination hormone replacement therapy or HRT]. A third group received a placebo, which contained no hormone. In 2002, the study was stopped because the Provera group was associated with a slight increase in the incidence of breast cancer, heart attack, stroke and blood clots.
In April 2011, the Journal of the American Medical Association (JAMA) published a follow-up study of the women in the WHI who took estrogen alone. The finding: a statistically significant reduction in breast cancer over time. Among the women with a prior hysterectomy treated with estrogen alone and followed for 11 years, there was NO increased risk of heart attack, stroke, blood clots, hip fracture, colon cancer or mortality.
After a decade of fear and confusion regarding the risks and benefits of estrogen replacement therapy, medical studies have now clearly established its safety and its health benefits. In March 2012, the North American Menopause Society released a statement that supports these findings, stating that combination hormone therapy (both estrogen and progesterone) initiated around the time of menopause is safe.
If you would like more information on hormone therapy, contact Dr. Gordon C. Gunn MD in Fullerton, CA at 714-912-2211 to schedule an appointment today. Or visit www.gordongunnmd.com for additional information regarding women's health. 
Dr. Gordon Gunn proudly serves Buena Park, La Mirada, Yorba Linda, Diamond Bar, Walnut and all surrounding Orange County areas.